1.) Donald Trump
"No, Donald Trump, you're FIRED!"
2.) Ryan Murphy
Ryan, when will you release American Horror Story: Garbage, the behind the scenes look at how you brainwash talented actors into joining your horrendously awful television programs?
3.) Fall Out Boy
"Thnk fr the Mmrs" was the last good song you released, and that was back in 2007. Stop torturing us with your Uma Thurman bullshit, and recede like your band members' hairlines ASAP.
4.) Rachel Platten
My "Fight song" involves beating you with a shovel behind a 7-Eleven.
5.) Shailene Woodley
Read a book on feminism, you walking armpit!
6.) Jenny McCarthy
Let's be real, we all know Jenny McCarthy killed Dick Clark.
7.) Adam Sandler
Who did you blow at Netflix to get that movie deal? Stop force feeding us your suckage.
8.) Candace Cameron Bure
Tonight, the DJ does not have me falling in love with you, Candace. Keep your uninformed opinions to yourself.
9.) Raven Symone
Maybe if you had seen how ignorant you were going to be in the future you would have avoided joining "The View"
10.) Ben Carson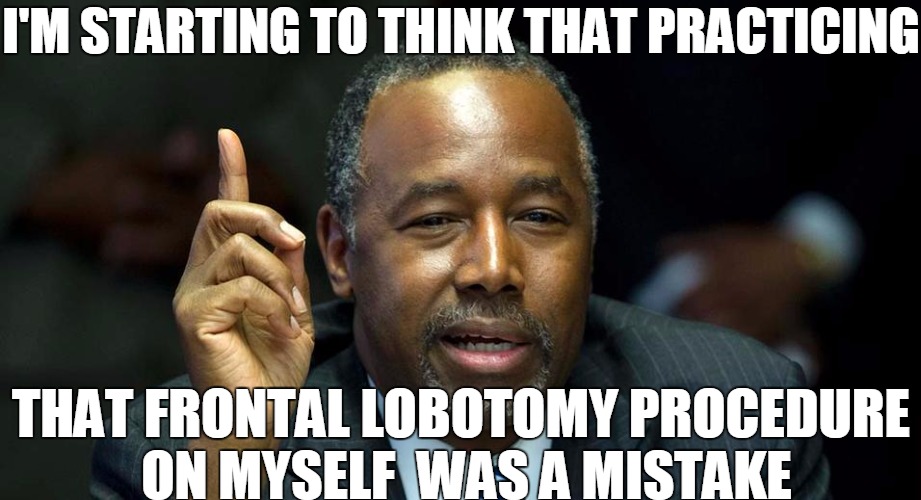 Round of applause to Ben Carson for being the first person to perform a self lobotomy!
11.) Sarah Paulson
Sarah, now I don't know you personally, but what I do know is that you are arguably the WORST part of any season of American Horror Story.
12.) Every Viner
Let's put them all on Hoverboards and direct them toward the nearest cliff!
13.) Michael Bay
Whoever is letting this man put out Transformers 5 should be forced to swallow hot coals.
14.) Kris Jenner
People worry about the U.S.A becoming a Godless country, well look folks it already is! We let Satan take control of the E! Network.
15.) Iggy Azalea
We shipped her back to Australia already, right?
16.) Giuliana Rancic
Get this Praying Mantis off television, ASAP!!!
17.) Wendy Williams
Wendy Williams is personally responsible for the nation wide decline in IQ since the premiere of her show in 2008.
18.) Tila Tequila
STOP MAKING ME QUESTION WHETHER OR NOT THE EARTH IS FLAT! I HAVE OTHER THINGS TO WORRY ABOUT RN!
19.) Lena Dunham
I'll never understand why Hilary Clinton let this mesh wearing muppet run her campaign Instagram.
20.) Bill Cosby
Even if you are innocent, which I highly doubt, you have a lot of things to apologize for. Most of them having to do with Fat Albert.